Ceramic is a material that has been used for centuries in the manufacture of garden and home planters due to its durability and aesthetic appeal. Today, however, ceramic pots for plants have evolved to incorporate modern and innovative designs, as well as exclusive technology that helps care for our plants more efficiently or add some extra functionality to the pot. 
Below, we will explore the possibilities that currently exist in modern and innovative ceramic pots and delve into how they combine functionality, elegant beauty and tradition.
Pots with biological technology
In recent years, planters are now incorporating various technological developments. These innovative implementations mostly focus on two areas. On the one hand, we have the indoor plant pots that incorporate some kind of sensor and technology built around it to facilitate or even automate the care of the plant. The other major trend of incorporating technology into pots aims to add some kind of complementary functionality, not necessarily linked to plant care.
However, when we refer specifically to ceramic pots for plants with biological technology, the options are reduced to a single option: Bioo Lux.
Bioo Lux Premium is the only ceramic pot for succulents, or other types of plants, that features proprietary biotechnological developments that add functionality to the pot.
This innovative and minimalist ceramic pot transforms your plant into a biological switch, making you forget the use of traditional switches to turn on the light integrated in the pot itself.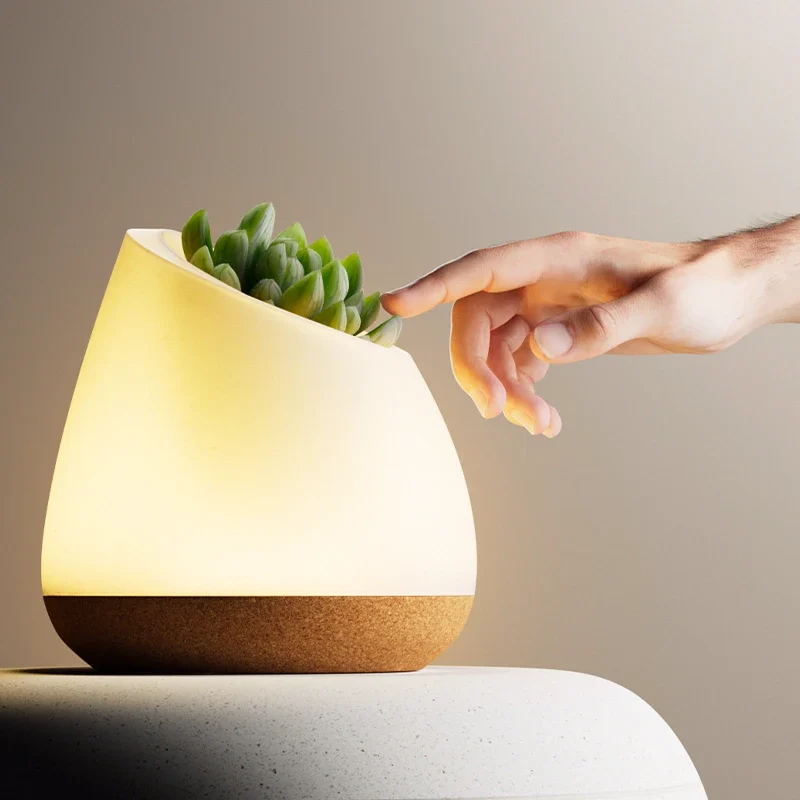 Minimalist Design for Ceramic Planters
Succulents have become very popular in interior decor because of their elegant appearance and easy-care. 
To further enhance the beauty of these plants, minimalist ceramic plant pots for succulents are an ideal choice. These pots are usually small in size and are designed to provide proper drainage, preventing excess humidity that can be harmful to succulents. In addition, a beautiful ceramic plant pot white is especially popular for these types of plants, as their neutral color highlights the shapes, textures, and vibrant colors of succulents. 
Potence the correct care of your plants
Ceramic, as a crafting material, offers several advantages for plant care. 
In addition to the drainage mentioned to prevent excess humidity that is harmful to plants, the porosity of ceramic allows better air circulation and balanced water absorption, which prevents roots from rotting due to excess moisture. In addition, ceramic pots retain temperature more effectively, which is beneficial for healthy plant growth. 
These three features make minimalist ceramic pots a popular choice for plant lovers and especially to succulent plant lovers, who want to provide the right environment for optimal development.
Perfect balance: Technology, conventional and elegance
If you are looking for a modern, innovative, and aesthetically pleasing planter, ceramic pots are an excellent choice to enhance the beauty of your plants and enjoy a green and harmonious environment in your home.
When you also want to give your decor a touch of innovation, modernity and sophistication, the perfect choice is Bioo Lux Premium:
It is a unique decorative piece that combines tradition and modernity, by using translucent ceramic to shape an internationally recognized and award-winning design.
Bioo Lux incorporates its own biotechnology to transform your plant into a biological switch. This makes it possible for everyday actions in your life, such as turning on the light, to be much more connected to nature, thus improving your well-being (as indicated by studies all over the world, including NASA studies).
Don't wait to transform the decoration and ambience of your spaces and join the biotechnological revolution with Bioo Lux now!