Plants are a wonderful way to bring life and freshness to any space in your home. To enhance their natural beauty, there is nothing better than displaying them in cool house plant pots that combine style and elegance.
Here are some tips and ideas on how to decorate and display your plants with style and a sense of modern elegance to create a unique and captivating environment with contemporary, elegant, and sober pots.
Highlighting Innovative Plant Pot Designs
The innovative plant pot designs that stand out the most for originality and creativity offer some avant-garde designs. For example, you can find indoor planters in various geometric shapes, elegant planters created with a combination of materials (such as ceramic and metal), and even suspended planters that create a floating effect.
These cool ideas for plant pots generally achieve such levitation of the plant by means of magnets, causing the plant to float and, in some cases, even rotate, without the need for contact with any physical medium.
These innovative cool planters are perfect for those looking to add a modern and bold touch to their decor.
Modern Elegance: Sleek and Contemporary Plant Pot Designs
If you prefer a more natural and organic approach, rustic style placement and composition ideas with a wicker liner or visible wicker finish are an excellent choice. This type of beautiful pot made of natural materials brings a touch of simplicity and warmth to your home, enhancing the beauty of the plants.
Wicker plant pots are a versatile and decorative option for displaying your plants either on the floor or hanging on the wall. Pay special attention to the composition of your indoor garden, combining different sizes and shapes to create a visually appealing ensemble.
Nature-Inspired Beauty: Organic and Rustic Plant Pot Designs
If you prefer a more sober and elegant aesthetic, opt for pots in neutral colors and minimalist designs. Sober-looking pots, generally in white, gray or black tones, offer a sophisticated and timeless look that adapts to any decorative style.
One of the most wanted types of elegant planters today are ceramic planters with matte or textured finishes that add a touch of elegance and subtlety. Part of the popularization of contemporary ceramic planters is justified by the current trend toward artisanal and handmade designs that these cool planters represent.
In addition, another advantage of a sober and elegant cool plant pot is that it will allow the beauty of your plants to be the undisputed protagonist.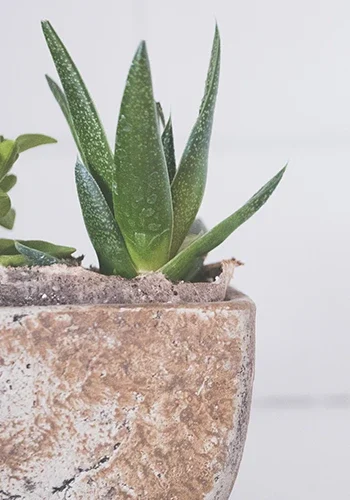 Tips for Styling and Arrangement for Cool Plant Pots
Placement and Composition Ideas
As we noted earlier, to display your plants in style, the placement of the pots and the composition you create with them is critical. You can create groups of pots of different sizes and heights to add dynamism and depth to your space. You can also play with symmetry and asymmetry by placing home planters on shelves, ledges, or tables. Don't be afraid to experiment and combine different styles of indoor planters to achieve an interesting and harmonious visual effect.
Lighting Techniques and Effects
In addition to the placement and composition created with home planters, lighting for planters also plays a crucial role in the display of your home decor style. You can highlight your cool pots with recessed floor lights or directional spotlights that highlight the shapes and textures of your stylish pots. You can also use colored LED lights to create a magical ambiance and play with the lighting of the cool plant pots at different times of the day. These lighting effects will add a special touch and highlight the beauty of your home planters.
Among the most recent trends in contemporary cool house plant pots we find the arrival in homes of indoor placement and composition ideas with built-in lighting. Among them is Bioo Lux, the first and only planter with built-in lighting that comes to life at the touch of a plant leaf. Forget about traditional switches and give a touch of sophistication and avant-garde to your spaces with this elegant and revolutionary planter internationally awarded.