Have you heard before about Bioo Lux, the magic plantern lamp that is captivating everyone?
If so, you are in the perfect place to discover all its secrets and learn how you can get your own piece. If not, we can assure you that Bioo Lux will amaze you so much that you will want to get one for yourself.
What is the magic plantern?
Step into a world of enchantment with Bioo Lux, the mesmerizing magic plantern touch lamp.
Bioo Lux is Bioo's pioneering venture into nature-inspired technologies for individual people, using the remarkable advancements of its own biotechnology developments.
This magic plantern lamp revolutionizes the way humans reconnect with nature by seamlessly integrating technology into their daily lives. Bioo Lux is an award-winning piece of decor which seamlessly combines the beauty of a planter with the functionality of a touch-activated lamp, creating a truly magical experience for your space. The magic plantern is more than just an ordinary lamp – it is a captivating and versatile piece of innovation that brings a touch of wizardry to any room.
How does a magic plantern work?
The working process is as simple as outstanding:
Touch one leaf of your plant when you want to turn on the light.
Want to turn it off? Touch it again, and it's done!
The explanation behind the functioning of this magical plantern touch lamp is rooted in the power of nature. If that explanation is not sufficient for you and you want to delve deeper into the working process of the magic planter lamp, we will try to explain it in a simple and understandable way.
The magic lies in the ability of live plants to perceive frequency changes when they come into contact with other living beings. This distinguished capability allows you to use plants as a natural switch when combined with the magic plantern lamp.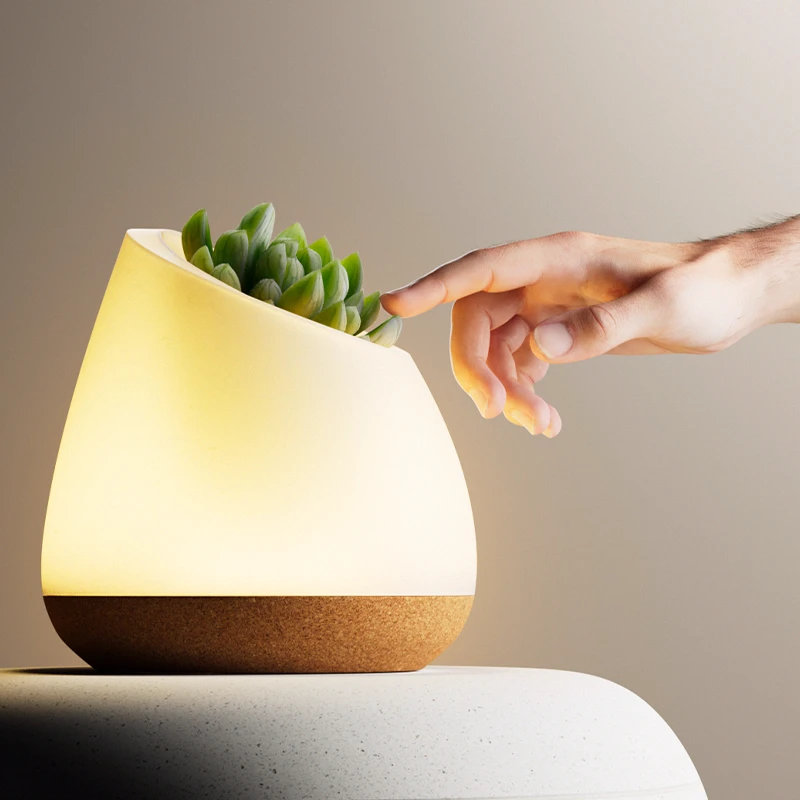 Of course, the planter itself is thoughtfully designed, with a spacious and deep reservoir that allows you to house a variety of plants. However, we recommend using a succulent plant to ensure the optimal functioning of your magic plantern lamp. The main reason for this recommendation is that succulent plants, such as Echeveria SPP, Kalanchoe thyrsiflora, Crassula ovata, Crassula arborescens and Sedum dendroideum require relatively low maintenance. This assures you that the plant will live longer and fulfill its role as a natural lighting switch whenever you need it.
Carefully designed and crafted, the Bioo Lux magic plantern utilizes energy-efficient LED integrated lights that emit a soft and warm glow. These lights not only provide enough and soothing illumination to your room but also enhance the beauty of your plants.
How to get a magic plantern?
If you are ready to add a touch of enchantment to your space, acquiring a Bioo Lux magic planter touch lamp is a breeze.
Firstly, you will have to consider which version do you want:
Bioo Lux Premium. This is a special limited edition in which the main body (the part that illuminates when you touch the plant) is made of translucent porcelain.
Bioo Lux Lite. Apart from this main difference, the Lite version is almost the same product: with the same award-winning design and, of course, all the functionalities that the Premium version offers.
Once you have decided which version to buy, you only need to visit our online store and place your order. Your Bioo Lux magic plantern touch lamp will be delivered to your destination within a week.
Do not miss out! Illuminate now your surroundings with elegance and let the magic unfold with Bioo Lux, the captivating magic plantern lamp that adds a touch of enchantment to your space.